Wedding Ceremonies:
If you desire a more poetic, inspired and heartfelt service for your wedding, I will customize the liturgy and vows to your preference and needs, and also officiate at the marriage ceremony itself. As a prospective wedding couple, you will be guided through and involved in every aspect of the structure and wording of your ceremony. Each part of the service should be a reflection of your commitment to one another, your family traditions and spiritual beliefs.
Some features that can make your service more unique and inspiring may include: the blessing of the couple by their friends and family, symbolic joining of the family lineages, handfasting, and the wedding despacho.
Handfasting: This practice is the source of the idiom "to tie the knot." Handfasting is not intended to represent bondage or servitude. It is a symbol of the birth of the couple's unity and their promise to live a shared life. It is the pledge and declaration of their truth (troth) as in the old expression: I plight thee my troth. The tie is placed around the couple's joined hands. The hands are joined in a figure eight, a symbol of balance and eternity.
Wedding Despacho: A despacho is an offering and a reminder of the connections we share with all beings. It is an ancient ritual and community ceremony that expresses our best intentions and dreams for the future, as well as our gratitude for all we have been given. The despacho can be displayed at either the wedding or reception site for guests and family to visit and extend their blessings to the couple and their shared life. On a colorful cloth or paper, guests choose from a range of offerings, such as sage for clarity and direction or rose petals for beauty and romance, rice for fertility, and so on. Bay leaves serve as quintus, into which family and friends blow their prayers for the couple before adding it to the despacho.
As a shamanic practitioner and minister, I embrace an all-inclusive and compassionate way of being. I am a proponent of same-sex marriage and welcome same-sex couples to my practice.
---
"Having a shaman officiate at our wedding was not a traditional option. However, the love and peace that permeated our wedding was remarked upon by virtually all of the attendees. Jane's wonderful, warm and loving personality shone through in her actions and words. The lovely ceremony was due in large part to Jane's thorough preparation and understanding of what we desired along with her unique and creative approach which touched everyone present."
— Todd B.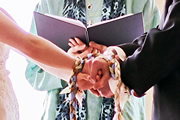 ---
Love one another, but make not a bond of love
Let it rather be a moving sea between the shores of your souls.
—Kahil Gibran